Smart home is based on the Internet of Things technology to connect various hardware devices together. By collecting and analyzing user behavior data, it provides users with home appliance control, lighting control, telephone remote control, indoor and outdoor remote control, anti-theft alarm, environmental monitoring, and HVAC control. , Infrared forwarding and programmable timing control and other life service solutions.
There are various types of smart home products, mainly including more than 20 categories such as video surveillance, anti-theft alarm, control host, intelligent lighting system, electrical control system, home background music, etc., covering lighting, security, heating, air conditioning, entertainment, health care, kitchen supplies And many other scenes.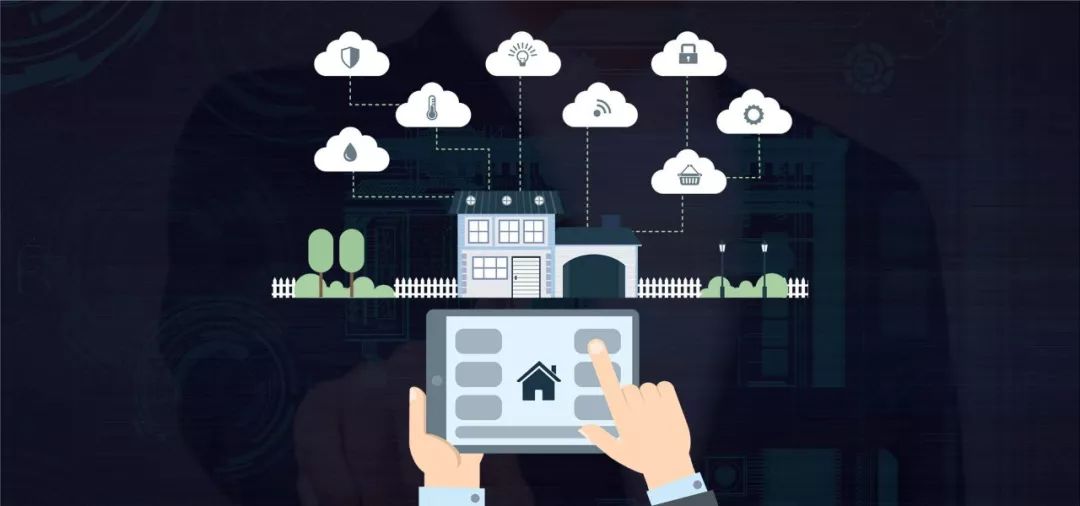 1. The status quo of industry development
(1) Industrial scale
Although my country is in the initial stage of the development of the smart home industry, the scale of the industry is already considerable. 2014 is the first year of smart homes. According to estimates, the scale of the entire smart home ecological market that year was about 160 billion yuan. Then the smart home industry ushered in a golden period of development. In 2017, the scale of China's smart home market has reached 334.23 billion yuan, a year-on-year increase of 24.8%. Among them, smart home appliances have the highest market penetration rate, with a market size of 282.80 billion yuan, accounting for 86.9%. In 2018, with the rapid progress of the Internet of Things, artificial intelligence, cloud computing and other technologies and the rapid development of a group of leading companies, China's smart home market is expanding rapidly, and the market size is expected to be close to 400 billion yuan. As a new industry, smart home is still in the industry introduction period and consumer market training period. With further popularization and promotion, the scale of the future smart home industry will be very large.
my country currently has 100 million potential users of smart homes. It is expected that the smart home market will continue to maintain a compound growth rate of more than 20% in the next three years. The market size is expected to be close to 600 billion yuan by 2020, and the market is expected to mature in scale by 2022. Break through trillions.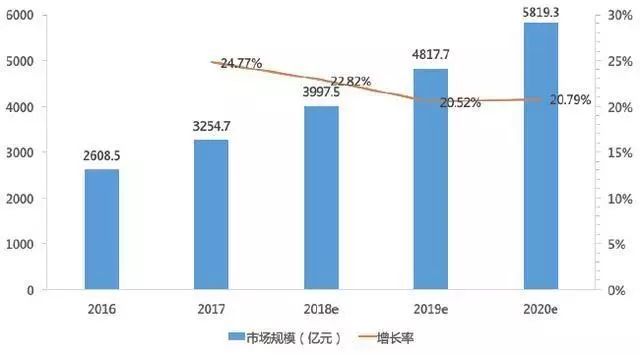 Figure 1 2016-2020 my country's smart home market scale
(2) Regional development
Smart home manufacturers are mainly concentrated in the Pearl River Delta, the Yangtze River Delta, and the Bohai Rim. Among them, Guangdong Province is the largest manufacturing base for smart home products in China, accounting for 37% of the manufacturers, followed by Zhejiang, Shanghai, Beijing, Fujian and Jiangsu. These regions have developed manufacturing industries, advanced technologies and huge markets. The deployment of smart home companies here can give full play to R&D advantages, reduce transportation costs, improve customer response speed and optimize after-sales service, while facilitating import and export.
2. Upstream and downstream industry chain
The upstream of the smart home industry chain is mainly hardware, software and technical support. The hardware is mainly the parts and components for the manufacture of smart home products, including power supplies, panels, pcbs, chips, sensors, controllers and other components and display modules, communication modules, etc. Middleware and software are mainly the operating system and application software development of smart homes; the midstream is the production and system integration of smart terminal equipment, including home appliances, robots, cameras, speakers and other home production and smart home solutions; the downstream is channel services and content services , Channel services are mainly provided by real estate companies, home improvement companies, and engineering companies, and content services are provided by Internet and telecommunications companies.
3. Industrial Ecological Chain
(1) Product ecological chain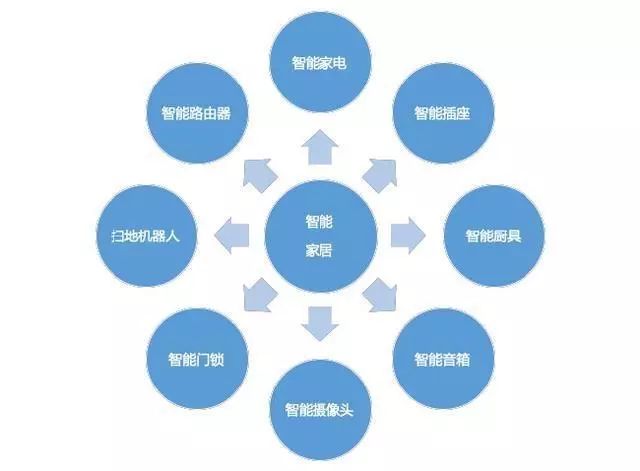 Figure 2 Main hardware products of smart home
Smart homes are mainly divided into smart home systems and smart hardware devices. Smart home system includes home wiring system, home network system, smart home (central) control management system, home lighting control system, home security system, background music system (such as TVC flat panel audio), home theater and multimedia system, home environment control system Wait for the eight major systems. Smart hardware devices include smart speakers, smart light bulbs, smart home appliances, sweeping robots, smart door locks, smart kitchens, smart bathrooms, air purification, HVAC and water purification, smart watches, smart gateways/control centers, security cameras, smart furniture, etc.
(2) Enterprise Ecological Chain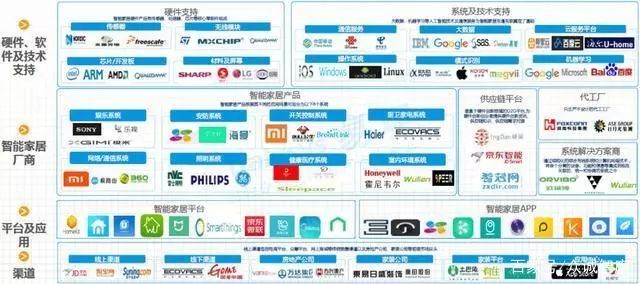 In 2014, giants such as Google, Apple, and Samsung rushed to enter the field of smart home, and the concept of smart home exploded. The popularity of smart homes has swept into the domestic market. In addition to the first batch of home appliance companies that entered, related parties in the industry chain such as consumer electronics, Internet companies, and operators have also entered the market one after another, or self-developed smart hardware, or deployed ecological platforms. Among them, Xiaomi, Huawei and Haier are very representative.
1.Xiaomi
In 2013, Xiaomi keenly sensed the prospect of the explosion of the smart hardware and IoT (Internet of Things) market. It deployed the smart home field in advance and established the Xiaomi ecological chain by investing in startup companies in the smart hardware field. Up to now, there are more than 90 Xiaomi ecological chain companies, including Huami, Zimi, Greenmi, Qingmi, Zhimi, Chuangmi, Bluemi, Yunmi, Wanmo Acoustics (1more), iHealth (Jiu'an Medical Brands, including TVs, earphones, mobile power supplies, bracelets, sockets, blood pressure monitors, air purifiers, water purifiers, sports cameras, balance cars, batteries, bedside lamps, etc. Rice cookers, etc. have formed a complete set of closed-loop smart home ecology. Xiaomi's IoT smart hardware generated more than 20 billion in revenue in 2017, accounting for 20.5% of Xiaomi's total revenue. The Xiaomi IoT platform has connected more than 85 million IoT devices, and will open the IoT platform to the outside world, and cooperate with Baidu to build software and hardware. The integrated "IoT+AI" ecosystem is shared with the entire industry chain to promote the implementation of smart home life.
2.Huawei
At the end of 2015, Huawei officially released the HiLink strategy for smart homes and announced its entry into the smart home ecosystem. In two or three years, it has formed the Huawei HiLink smart home platform, Huawei mall + Huawei experience store, Huawei Smart Choice brand, and Ark Lab The "Huawei Smart Selection Model" involving platforms, products, channels, and brands has built a strong smart home ecosystem. The implementation of Huawei IoT is based on the idea of "1+8+X". Among them, "1" represents the main entrance of smart phones; "8" represents 8 auxiliary entrances, including tablets, PCs, TVs, in-vehicle devices, smart speakers, smart headphones, smart watches, smart glasses, etc.; "X" represents Pan-IoT devices, including smart lighting, smart door locks, smart home appliances, etc. What links the entire product ecosystem is Huawei's two major technology platforms-HiLink and HiAI. Among them, the HiLink platform is responsible for opening up networking protocols and providing the foundation for interconnection and intercommunication of devices. HiAI is Huawei's AI technology platform, which empowers AI technology for smart devices. At present, Huawei's HiLink platform has accumulated more than 20 million users, accessed more than 100 categories, cooperated with more than 150 manufacturers, and covered more than 500 products; and WiFi smart home devices connected to the HiLink protocol have reached about 4 million. Achieved 400 million App links.
3. Haier
Haier has built a U+ smart life platform with the goal of leading the smart home in the Internet of Things era, and launched the Haier Youjia APP in 2015 as the smart home ecological portal. The feature is to establish a set of software agreements to connect their own refrigerators, washing machines, TVs and other household products into a platform, and then through the opening of the agreement to attract chips, modules, electronic control, manufacturers, developers, investors, e-commerce, Cloud service platforms and cross-platform partners work together to create an ecosystem to realize the interconnection of products or services across brands and industries. In 2018, Haier also released a complete set of customized solutions for the smart home "4+7+N", accelerating the implementation of the smart home.